If you're reading this, there's every chance that you're looking for tips on how to select the best wine, right?
Is that a yes?
Great! Tell you what… you're in good hands!
What follows is a comprehensive guide outlining the factors to consider when choosing the best white wine.
Let's start with the basics.
Buzz Words Used To Describe White Wine You Should Know
Before you head to the shop or online store in search of a bottle of white wine that suits your taste buds, it makes perfect sense to get well acquainted with terms used to describe its character;
Round – Wine that has a smooth texture.
Dry – Unsweetened wine.
Crisp – Fresh but slightly acidic wine.
Oaky – Aged wine usually fermented in oak barrels. Oaky wine has a vanilla-ish flavor.
Creamy – Wine with a smooth texture and not acidic.
With that out of the way, here's how to pinpoint the best white wine. Ask yourself,
How Much Do I Know About White Wine?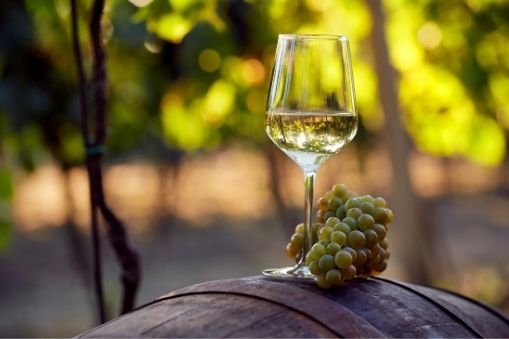 Listen.
The market is awash with an assortment of white wines. In essence, this means that you should start by getting familiar with as many available options as possible.
And, there are many resources you can get information about various types of white wine, including books and reputable websites.
Why is this step crucial?
Well, not all wines go with every kind of food – some wines are better served without food. So, be sure to research different wine varietals, flavors, and food combinations.
Groups of wine vary depending on the type of grapes used to make them. Varietal wine, for instance, contains a single variety of grapes.
What's My Budget?

Here's the thing.
You can only buy a bottle of white wine that you can afford. So, consider your budget before you head out to shop. 
Some white wine brands come at an extravagant price. To get a bottle of the1811 Chateau d'Yquem, for example, you have to part with a whopping $117,000!
The fruity flavor Marlborough Sauvignon Blanc, on the other hand, goes for a measly ten to eleven bucks.
The point is, you don't have to burn through your wallet to get the best white wine. Even so, you can spend as much you can afford as long it's within your budget.
Side Note – The variety of the grapes and the region they come from is one of the primary factors that determine how much a bottle of white wine goes for.
What Type of Food am I Going to Pair my Wine With?

As stated, not all white wine goes well with every meal. So, be sure to consider what's on the menu before choosing a particular blend for the occasion.
Pick a wine that complements the taste of your food. Generally, sweet and ice white wines are better off served alongside fruits, desserts, or sweet meals. Popular sweet and ice wines include Sauternes and Chardonnay, respectively.
Dry white wine such as Pinot Grigio is ideal for light, less spicy foods with salads and white meat. Choose full-bodied wine such as Cabernet Sauvignon for flavored and spicy foods.
On top of that,
Talk to a Friend Who Knows About Wine

If you are close to a wine connoisseur, you can pick their brain to enable you to choose the best white wine for your needs.
What if you don't know anyone who loves and knows about wine? No problem! Simply walk into a specialized wine dealer near you for some advice.
An experienced seller will recommend a wine that best suits your occasion or meal. Besides, this is an excellent opportunity to ask wine-related questions.
Go on a Wine-Tasting Spree

Wine tasting is fun. And the beauty of it is that the more white wine varieties you taste, the more you'll learn and, most importantly, develop your palate.
You see, tasting wine enables you to determine the character of a particular blend before spending your money on it. You can sample different wine varietals at your local specialty store. Think of it as a way of making sure you're getting value for your cash.
One more thing – here's a rundown of some of the most popular white wine blends around the world.
Chardonnay – Medium to full-bodied wines and arguably the most sought after white wine blend on the planet.
Sauvignon Blanc – Light to medium-bodied wine, pale yellow in color.
Riesling – Sweet and acidic wine with pear and green apple aromas.
Pinot Gris – Spicy to full-bodied wine, golden yellow in color.
Semillon – Dry to sweet wine made using golden-skinned grapes.
Gewurztraminer – Dry and crisp wines made using aromatic grapes grown in Germany and France.
The Bottom Line

While choosing the best white is a skill, these tips will get you started. Keep honing your expertise as you continue to taste and sample more wines.
Happy sipping!
---