Get your bar plans here for only $19.95.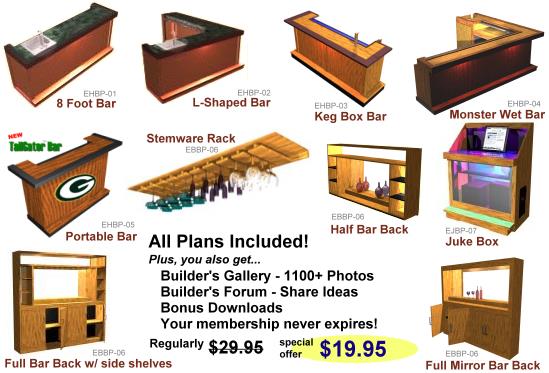 Whether to open a new bar or renovate an old one, a bar plan is the second thing to consider. Order our bar plans now. Choose top bar designs plans from the latest showcase of Modern Bar Designs. Get trendy. Always be a hip.Show what is cool.
Planning is the whole idea when building a bar and the first step in the planning method is deciding the right bar design. It should be a design that is in harmony to the taste and needs. Planning should be systematic since building this bar plan project in whether it would be for home use or commercial use is a nice-looking big thing. Anyone doesn't want to have any big regrets about it in the future since remodeling it can be such a big headache.
The very first step is to evaluate if building a bar in the chosen location is accessible or is there a possibility. Consider everything and that includes the space, plumbing and electrical wires. If it is for home use, remember to ask first the partner's approval of the project whether it would be a wife, husband or roommates. Handle all of the plumbing and electrical problems before starting on bar design.
Think about the purpose for the room; this will make choosing the design easier. If having just small intimate gatherings is the plan, then there is no need to have a big bar for that. When choosing not to stock enormous amounts of drinks and liquor, allot space for a small refrigerator. These are the basic necessities for a wet bar, sink, an area for mixing drinks and another area for storing drinks.
Perform the necessary measurements of the area precisely. Make a very detailed list of all the things needed to accomplish in order to finish the bar project successfully. Most of all, keep a drawing or sketch of the chosen bar design to make the construction easier.