Important Tips to Consider in Running a Successful Sports Bar
---
History shows that sports is and will always be an important part in people's lives. It brings out the spirit of competition in competitors. Some people say that the process of improving and trying to best the other party is not only highly addictive, but also a philosophy of life.
Apart from that, it is a great way to unite people, whether it be a school, a city, or even a country. It could be basketball, football, or even esports, there will always be supporters there who want to watch and cheer for the athletes.
These are not the only benefits that sports convey though. Watching sports also gives the viewers a keener mind, a reason to get together and connect other people, and even reduces the chances of depression.
These are all great reasons to open up a sports bar. However, as with all things in life, things aren't so simple. Just opening a sports bar doesn't necessarily mean that it will automatically be successful.
Fortunately, Modern Bar Design has your back as we discuss several important tips to consider in running a successful sports bar.
Tips to Run a Successful Sports Bar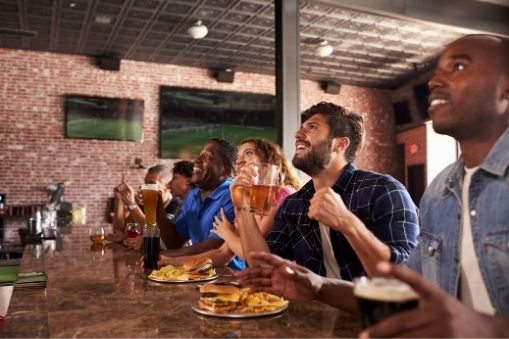 Location is Everything
Like with any good business, one of the most important decisions is on the location of your sports bar. The truth is that some locations are more conducive to sports bars than others.
In choosing the right location for your sports bar, ensure that it is an area where there are a lot of sports fans that you can draw in.
One tip that we can offer is to find a good location near a college. With a slew of college games that many people frequent and support, it is a safe bet as to your sports bar's location.
Look up other areas that have many avid sports fans. Certain demographics go wild for a variety of sports bars. When you find that area with that kind of demand for a place to gather to watch sports, you know you've hit gold.
Other Games
There are sporting events that can cover the whole year round. Be it basketball, football, college sports, esports, boxing, or MMA, you can be sure that there is always something to show on the big screens.
While bar owners may have control of what to put up on the TVs, there is no guarantee that the event will be exciting. One unavoidable fact is that sometimes, the games you put just aren't exciting. Why not set out other games for the customers to enjoy?
These games could include bar staples such as a pool table, a dart board, and maybe even a foosball table. Why stop there? Depending on the crowd, you could throw in some board games too for some added variety.
As an added tip, why not also set up a trivia night that can be a great draw for your bar. This trivia night is another wrinkle to entertaining your customers. You may even ask trivia on sports teams and events, so as to keep in line with the sports bar theme.
Decorate Accordingly
This next tip works well with the first tip of setting up your bar in the right location. Depending on where you set up your sports bar, you will most likely have an idea of what teams your target market are supporting.
In the major cities, these might be easy as you just have to find the right team for their city. The same goes for what colleges your customers support.
Decorate your walls with your chosen team's colors and gear. If you could get your hands on some signed or autographed paraphernalia, these will make a great addition for your sports bar.
The goal is to have your sports bar represent these teams as well. This really helps in allowing customers to feel more at home and united in their goal of supporting their teams.
Food First
When you are setting up your sports bar, one often overlooked thing is the food that these bars offer.
Games and sporting events could last anywhere from two to four hours. Chances are that the customers will need head in and stick to bottles of beer (but they very well could). It is best to be prepared for the hungry customers that want to fill their bellies as they watch the game.
Be sure to think about the type of food that you will be serving. The people who frequent sports bars will most likely not head there for fine dining dishes. Some safe food to prepare would be burgers, chicken wings, fries, pizza, and even nachos.
Amen to the Amenities
Finally, you want to equip your bar with the best and most appropriate amenities.
For starters, you want to get good television sets in your sports bar. The size of your sports bar will dictate how big you want your televisions to be as well as how many you will be setting up. It is also heavily dependent on your budget.
If your bar's layouts have a lot of twists and turns, and customers are blocked up into their own areas, then you would be good with multiple television sets that are small to medium-sized. This way, no matter where the customers are, they can catch the game.
However, if the layout has a lot of open spaces with a majority of the customers grouped together, a bigger television set is ideal if they can all see the game clearly from wherever they are seated.
Another thing that you'll have to study and stock up on is the beer. Alcohol goes hand in hand with watching sports in a bar. It always has been and most certainly always will. That is why you need to find out what beer your customers drink and stock up on a lot of it.
Finally comes the furniture. As stated, games may last for a few hours. This means that for the most part, the customers will be sitting down for a good number of hours. You need to get some comfortable furniture to ensure that their experience is pleasant.
You don't need to inflate your budget for this though. If you look hard enough, you'll find the right comfortable furniture for your sports bar. Seek simple, comfortable, and affordable furniture. Perhaps something that won't have their bottoms hurt after some hours.
Sports Bar Success
Running a sports bar, or any bar for that matter, is always a challenging endeavor. However, with enough effort and experience, a successful sports bar is achievable.
Take these important tips and apply them so you can run your successful sports bar. As the years come and go, you'll find out what works and apply more improvements to your bar.
---