Wet Bar–Do it Yourself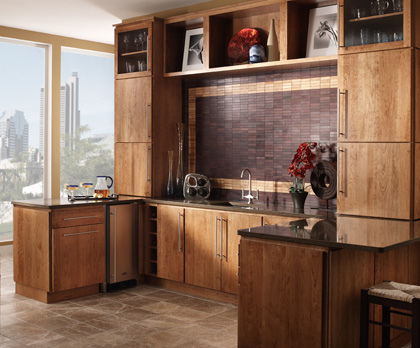 If you are interested in DIY, you will find there are lots of things you can do to improve the value of your home, even if you don't have much money. If your house didn't come with a wet bar you don't have to spend a fortune to get one–your book shelve are the best spare furniture for a wet bar. Having a wet bar in your home is not only great for entertaining but raises the value of your home instantly.
Choose almost any set of book shelves so long as they are not too short nor too tall. When standing, the book shelves should come to approximately mid-chest.
To make the set look less like book shelves and more like a bar upholstery the front, or solid side, of the book shelves. Use adhesive spray or another type of glue to attach a half-inch thick piece of foam to the solid side of the shelves. The foam should be about an inch smaller than the solid wood piece, all the way around. Allow to dry completely. Cut a piece of fabric, leather or vinyl to the size of the wood piece and glue it around the perimeter of the foam. Make small tucks to accommodate the corners. Use decorative tacks to cover the raw edges when finished.
You can also use inch-thick foam then after attaching it and the fabric, use button screws to make a diamond pattern, or another design, on the front of the wet bar. The button screws can be made to match the fabric by simply taking a piece of fabric to a local upholster. Or you can purchase the screws in basic colors like black or brown.
For the top of the wet bar set a slab of marble or counter top material. Something appropriate can be found at your nearby home improvements store. After attaching the top to the wet bar you're ready to supply the bar or you can do other improvements to it like upholstering the sides of the wet bar in the same manner which you upholstered the front.
Suitable stools are necessary for your wet bar. If shopping in a department store you can easily place the stools in front of your DIY design wet bar then compare the height to see if they are suitable.
Now, your global limited wet bar has almost finished. Glasswares, posters and the relevant accessories like cocktail shaker, flagon are alao needed in your wet bar. After that, enjoy the relaxation time with family members or friends with your great work!