What to consider when having an Outdoor Bar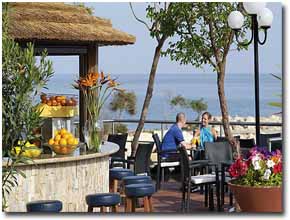 An outdoor bar is a nice place to hang out after work or on the weekends with family or with bringing in some friends. It is a great signature piece to any set of outdoor furniture. There are things to consider when figuring out how to build an outdoor bar: Site selection, design, style, material, and seating.
Site selection: Ask first where to build the new outdoor bar? One can build it anywhere. The main thing is to find a flat level surface. A freestanding bar set off a garden path is a beautiful idea for a secluded romantic spot. Another option is just to put it on the back patio, or deck. If power to the bar is needed for margarita machines, refrigerators and the like then building the bar closer to the house saves the time and expense of having to run power out to the middle of the back yard.
Design: Ask first how elaborate a bar that one is looking for? Every outdoor bar starts off as just a tall table to sit at. It's what with the bar that makes it unique. There's no edge to the choices to put in. For a wine connoisseur, put some overhead wine glass racks. For more beers then think about adding in a small keg cooler and tap. For more on tropical theme then an ice maker, a few heavy duty blenders and a big supply of little drink umbrellas should have in the outdoor bar.
Style: Once again what style suits in the home or commercial site is a personal choice. Tiki bars are easy to build with just some thatch and a little bit of bamboo. A cheaper option is to use some PVC tubing to build up a bar that matches outdoor furniture. If the bar is exposed to the elements then you'll want build with weatherproof materials. The wood needs to be something like a redwood or teak that will stand up to sun and rain.
Material: Build with something durable. Have more flexibility if the bar is built on a covered porch. The biggest thing to look for is water resistance. A good rule of thumb is that anything that can be used to construct outdoor furniture can be put to use in building an outdoor bar. PVC, metal, resin, and water resistant woods all make great choices.
Seating: This is the fun part. Pick something that works with the style and design of the bar. For a Tiki bar theme then look for woven thatch stools. The goal here is to bring all the style elements together into one unified theme.
Learning how to build an outdoor bar is easy as one two three. There are only a couple preparation steps needed.