Well Decorated of Your Back Bar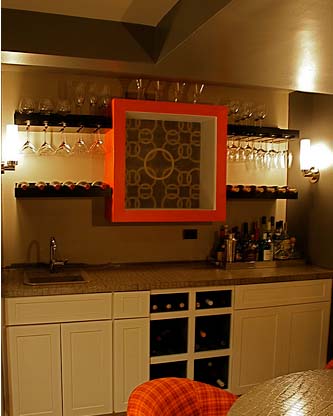 The back bar is a key component to a wine bar.
One of the typical back bar that I have seen before is just like this. Along which there is a drain pipe leading out to the septic tank. In the far right corner, there is a cleanout and a vent attached to the pipe. To accommodate these, it was framed around and included an access hatch (covered by a hanging picture) to gain access to the drain pipe cleanout. The rest of the back bar is framed out to give a flat area on top, even with the bar top, for liquor display. Underneath frame the bar and the rest of the basement, used standard 2×4 stud lumber and framing nails. We should know that before framing out the bar how big the cooler and the sink were going to be: The Beer Chiller – this typical back bar chose a True model TD-50 Horizontal Bar Cooler that is 50″ x 261/2″ x 33 1/4″ (W x D x H). The Sink – For the bar sink, it set with a Kohler stainless steel double bowl sink. Once we knew the size of the sink and the cooler, we could frame out the bar easily and correctly.
Over the bar are placed three small Halo brand bulls eye lights. All three are controlled by a single dimmer located behind the bar. Each fixture has a 60 watt standard type bulb. Rope lights were installed along the under the side of the edge of the bar to provide light in the work area. two six foot lengths of rope light were joined to run the full 13 foot length of the bar. The lights are plugged into a switched outlet and controlled by a switch next to the other dimmer switches behind. The room lights consisted of six Halo brand "high hats" or recessed ceiling fixtures. Four of the high hats are controlled by one dimmer switch, and the other two by another dimmer switch. The switches are located at the bottom of the stairs. Each fixture has a 60 watt flood type bulb. Upstairs / Downstairs. There are two additional high hats placed at the bottom of the stairs and controlled by an upstairs / downstairs switch and dimmer combo. Each fixture has a 60 watt flood type bulb.
Seems it was not completed to the back bar decorating. Yes, the bar TV and Jukebox are other necessary devices, we will discuss later.