Tiki Bar –New Way of Lifestyle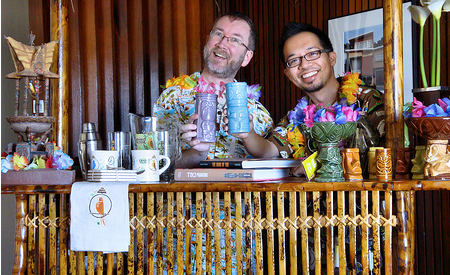 In American's modern culture, the word "tiki" has generally come to be associated with the stereotypical island way of life: easy living on romantic, exotic islands. However, the word has its roots in an art form created by several island cultures. Since the tiki bars introduced to pop culture in the 1930s, tiki bars have remained popular American nightlife themes. From resorts and vacation destinations to small town nightclubs and restaurants, tiki bars find a place to delight patrons.
Tiki Bar is a symbol of nature life. Tiki bars especially made in bamboo appeal to people's basic human desire to "get back to the nature" There's something inside each of us that would love to forget our troubles (perhaps escape that annoyed work or the just dullness of everyday life) and be marooned on a secluded island. It's a chance to cast all of our cares away and simply have a good time.
Although no two tiki bars are exactly the same, there are a few things that all great tiki bars seem to have in common:
1. Island-themed decor. This can include nets, boating and scuba gear, shells, starfish, driftwood, and anything else that might wash up on the beach. The lighting in a tiki bar is often moody and mysterious, like the inside of a jungle hut. A tiki bar also sometimes has a thatched roof, bamboo accents, and vases or garlands of tropical flowers. Paintings and other art created by native islanders are often displayed on the walls.
2. To be a true tiki bar, of course, it has to have at least one tiki! Whether it's authentic or reproduced, a small mask or a large wooden statue, the tiki is a great symbol of the primitive way of life that the tiki bar makes so attractive.
3. Tropical drinks. Anything fruity and colorful is a great fit at a tiki bar, especially those drinks made with rum and/or pineapple. They are usually garnished with Maraschino cherries or other fruit and often further ornamented with cocktail umbrellas. The quintessential boat drink is the mai tai.
4. Unique food. Tiki bars often serve grilled food with South Pacific flair, like kabobs, fruit-glazed meats, and anything flavored with coconut. Fire roasted flavor and fresh ingredients give tiki bar food an authentic taste.
5. Island-themed music. Traditional Hawaiian music is a natural choice for further setting the mood in a tiki bar. Other popular tiki bar music includes compilations of the original tiki lounge music, which was popular in the original tiki bar craze of the 1930s and 1940s.
The muted colors, natural exotic materials, real and/or artificial topical plants and low-wattage lighting create a tiki bar full of exotic ambiance, If there is a tiki bar near your home or work place, do not forget to have a visit, you will find a new great leisure place there!