The Wonderful Honey Wine Bar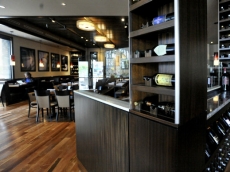 How to design a wine in a new way? Wine bar is always a place filled with clamor.
Twenty years ago he reinvented the pizza parlor with his first Fitness Pizza in Yorba Linda. There he took a dish that many Americans viewed as junk food and made it healthier. And more recently he's taken the wine bar and made it homey and hip.
This new venture, I saw such a honey Wine Bar, is nestled right next to its long-established sibling at a busy crossroads in Yorba Linda. I visit one rainy night, and my guests and I feel immediately relaxed in the comfortable setting.
The room is small, dark and intimate, with bunches of grape-shaped light fixtures and vines hanging suggestively from the ceiling. There is a long, high communal table dominating one side of the room, and a bar lining the other side. The table is already partially full when we arrive, so we slide up to the bar and park ourselves on the tall, soft bar stools there.
This has the advantage of nearly immediate service. Once we're seen and offered menus, we start pondering the food and beverage offerings. The thick, leather-bound list is filled with wines and upscale beers as well as a few well-edited dishes that are served tapas style, which means they are small plates, suitable for sharing.
I like the toast, especially with the Schumann Nagler Rheingau Riesling that we've ordered. The ever-so-slightly sweet white wine is nicely met with this savory first course. The wine is also good paired with the sashimi. The raw fish is cubed and served dramatically in an oversized martini glass. It is lightly coated in a spice forward blend of sesame oil and chili, and it's served over fresh avocado and tomatoes. We spoon up bites with long thin paddles called firecrackers.
There's live music several nights a week. On the night we visit, a combo adds greatly to the experience. The youthful trio offers a subtle background with gentle throws of the stand-up bass adding a romantic, almost retro, feel to the place.
As I said, some people just have a way of adding modern twists to old ideas and making them work. A honey wine bar is really wonderful.