Staying on top trend this Halloween Party
Halloween party is the most exciting party of the year a bar can think about. Make it more unforgettable than the other year it was celebrated. Here are the latest trend to make the halloween party in the bar more unique and fun:
LED illuminated Bar Equipments
Glow bar equipments with lights. LED Designs vary with some lights  designs to pour spouts, shooter glasses, lighted martinis, bottle tags, stirring sticks, flashing shaker, light-up ice buckets and even lighted ice cubes. Guests get more excited when they get to see their drinks are prepared and served with illuminated bar equipments.

Spooky Interior design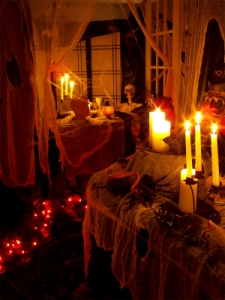 Decorate the bar with halloween spirited styles. Colorful gourds, pumpkins of all sizes, fall foliage, and Indian corn are inexpensive and easy to find. These harvest staples are a fantastic starting for Halloween decorations. Begin at the entrance door with stacks of pumpkins and small bales of hay or straw.  For a little extra amusement, carve a few pumpkins into grinning or grimacing jack-o-lanterns. Carefully, light votive candles inside the jacks or use battery powered bulbs to illuminate the front door with flickering glow at night.
Add more fright for the Halloween decoration by adding spooky elements. Fake cobwebs and spiders over doorways. Make silhouette cut outs of ravens, moons, and stars to hang on the bar counter top. Use a fog machine in the foyer and give the guests and visitors instant chills as they enter for a night of fun.
Anything orange or black will add to the festivities. Embellish black canvases with scary images and phrases using fluorescent or glow in the dark paints.
To create a mystical mood, use unique light bulb colors both inside and outside the bar. Try orange or red bulbs to accentuate the surrounding autumn colors, or go all out with black or purple lights for a psychedelic effect.
Build a mini creepy graveyard by spraying paint the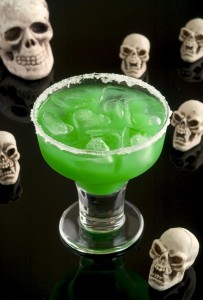 headstones in traditional gray, or use funky colors like hot pink and neon green. Hang skeletons and scarecrows from ceilings inside. Or maybe put a coffin as a background for the stage.
Bloody drinks
The heart of  a Halloween party are the drinks. Create a drink that is named after Halloween creatures and any Halloween haunting drinks. Here are some common haunting names for cocktail drinks; Bloody Tini, Corpse reviver, Devil's punch, Dracula's kiss, Frog in a Blender, Ghostbuster, Black widow and a lot more.
Just remember that what makes a party a Halloween party is the creation of making a spooky atmosphere.