St. Patrick´s Day Themed Bar design
It does not matter if Irish or not (in fact, St. Patrick was not Irish), St. Patrick's Day is the best excuse to throw an enthusiastic party for the home bar or for commercial bar. Whether one´s name starts with an 'O', or having green eyes, or if kissed by the Blarney Stone, everyone can enjoy the spirit of St. Patrick's Day. Decorating for a St. Patrick's Day smash is easy – use green, green, and more green!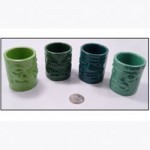 Decorating Ideas:
Begin by hanging a Custom St. Patrick's Day Banner with special message above the entryway. For commercial bars, this is the best way to promote the special drinks the bar is offering for the party.
Design St Patrick's Day with a St. Patrick's Day Decorating Kit! The wonderful way to change the party room into an Irish scene is to mix and match with all great St. Patrick's Day decorations.
Whenever there are things hanged from the ceiling people expect a party – so get them all excited with Shamrock Lights, Irish Clover Swirls (24″ metallic dangling decorations), St. Patrick's Decor Kit , Shamrock Glitter Cutout , or St Patrick's Day Cutouts Hang Shamrock Ceiling Decor over home´s buffet table or commercial bar dance floor for added impact.
Design doorway with a 8′ Shamrock Door Curtain and show green colors. Then add some life to front windows with this St Patrick's Day Cutouts.
Bar Top Decorations
For bar top and bar tables, go with more green! Use green table cover.
For centerpieces, use a Shamrock Centerpiece or make own centerpiece. Get a round clear glass cylinder vase (8″, 10″, or 12″ height). Make sure opening at the top of the vase is about 3 1/2 inches. Fill vases with 33″ Green Beads. Add an oasis cage floral cage to the top of the vase. Add several dozen green carnations from the local floral outlet. Cut end of stem under water & then immerse the fresh cut flower stems in water with flower food for several hours before arranging. When the carnations are ready, cut the stems again as it is being placed into the oasis cage to make the arrangement. Cut stems so that they are about 2 inches long, and then push them into the oasis cage. Continue adding flowers until the entire cage is covered. For a fanciful touch tie some green or white feather together with floral wire and stick them down into the top of the flowers. Tie napkins up with Shamrock Tinsel Garland for a festive display.