Safari themed bar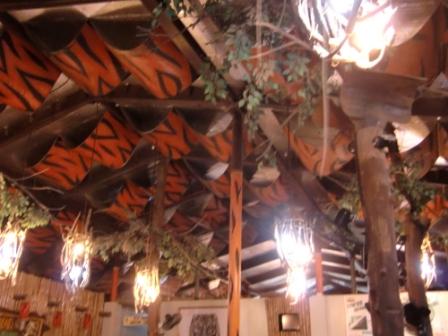 A safari themed bar is one of the examples of Specialty bar type. For mosts bar designers and bar plan designers, there is always a mystery behind the jungles. Striking animal prints, lush vegetation, and exotic African art, provide a decorating pallet that's hard to resist.
Start with the Walls of the Jungle Theme Bar by deciding which paint colors in a safari style bar. Choices of wall color can be toward the earth tones of deep browns, burnt oranges, golds, tans, and creams.
Once the wall is covered, it's time to liven it up with a wild jungle print wallpaper border and some prints or posters of favorite jungle animals. Exotic masks and animal print tapestries are another attractive option. African mud cloths, or cotton wall hangings depicting colored mud paintings of tribal scenes, lend an authentic look. Hang stuffed animals if there is a chance to get one.
Choose special rugs for a Safari or Jungle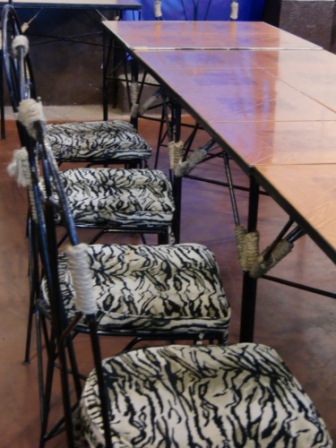 Theme Bar for rooms with hardwood floors. Safari designed rugs can complement the jungle theme. If decorators haven't already gone wild with animal prints, a zebra print rug or faux fur carpet is a great way to bring prints into the room. Otherwise, straw mats can complement the theme by offering a natural, outdoorsy ambiance.Use safari decorations such as animal cutouts (hang the monkeys from the ceiling!) or animal print balloons.
Bar furnitures for the Jungle or Safari Style Bar for a Jungle or Safari theme bar should have more natural wood furniture. The theme is best accentuated with dark wood pieces. Decorators who already have their furniture can accent it with wood pieces such as benches or trunks. Barstools can be designed with striped zebras or tiger stripes.
To make it more exciting, use safari related names or signs to bar locations such as, "This way to Cheetah's Comfort Room" or "This way to 'You Tarzan, Me Jane' Customer Service."
Hang vines and ivy from the ceiling and have cut-outs of jungle monkeys hanging on by one hand to the vines/ivy. Behind the speaker's platform another jungle scene can be built. To the left of this area, create a set with a giant gorilla eating bananas, behind bamboo poles, making a "cage" effect.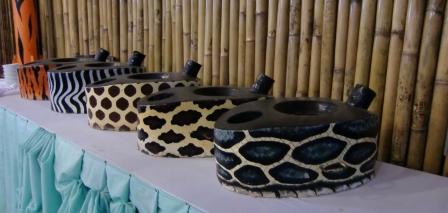 Centerpieces:
For centerpieces use baskets filled with fresh fruit, go tropical with pineapples, bananas, mangoes, papaya and maybe a few star fruit. Attach to the baskets, balloons, if that feels appropriate. Or use palm tree centerpieces palm tree centerpieces with a table card that thanks everyone for coming.