Intergalactic-themed Bar interior design
Thinking of a futuristic bar that no one ever had before? Wanna bring customers to getting an alien abduction?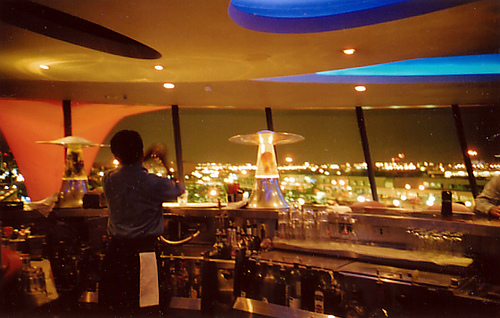 Let them get excited to drink in a star trek atmosphere! Here are some ideas that add to a very unforgettable interior design for an intergalactic-themed bar which makes customers open their mouth wide, amazed and leave the bar with something they can talk with their friends.
INTERACTIVE LASER BAR COUNTER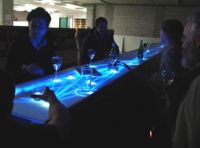 The interactive laser bar counter has a built-in system for the interactive design of any bar-counter. There is an intelligent tracking system that detects all objects touching the surface. Integrated video-projectors can scheme any content on the milky bar surface. This input is used to let projected content interact dynamically with the movements on the counter. Objects can be illuminated at their position or virtual objects can be touched with their fingers. This kind of system is ready to be installed completely into any kind of bar –counter; there is no need for any further installations on the ceiling. This kind of software is flexible and can be adjusted and enhanced.
This kind of bar counter is nothing if the bartender doesn't know how to do the tricks.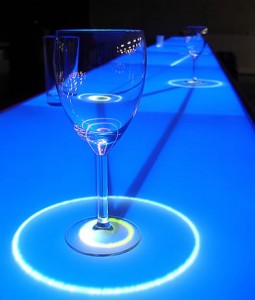 Customers are not only entertained by the bar itself but also the charisma, mixology talent and the ability to connect with guests and customers of the bartender.
INTERGALACTIC AMBIANCE
The bar's other-worldly features include moonstone quarry walls and a crater-shaped bar with bar guns that emit laser lights and futuristic sound effects when bartenders pour a drink. Create spaces that would make most men giddy. Illuminate your pour spouts with electrapour. The intergalactic theme carries on beyond the name, with floor-to-ceiling murals throughout and space-age anime on numerous big-screens TVs. Bar stools appear to float in air, and combined with customized lava lights provide a flowing, levitating environment.
GET CUSTOMERS ACTIVE
A Wall of Pong is a fast-moving, interactive, laser-based projection platform to draw a pong ball onto any flat surface. This allows for a large playing area that can be set up almost anywhere. Hand held paddles with embedded sensors are given to each player. The real life paddles increases the interactivity of the game and makes it an enjoyable and dynamic derivative of the original PONG arcade game.