How to Create an Ideal Kitchen For your Home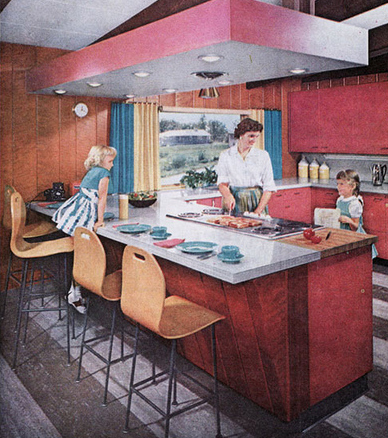 An ideal kitchen starts with good kitchen design. Today's modern kitchens are not just the places to cook up dinner,they have been the home's central gathering place, an area where families socialize and spend time together as much as they actually sit down for meals. Making an ideal kitchen will bring your more pleasant and leisure time. The below is the three main parts of Kitchen you should care about.
Cabinetry and Countertops
Creating an ideal kitchen mostly start with discussions about new cabinets and countertops- probably the two most important things to consider when it comes to making your kitchen more efficient, convenient, and beautiful.Before you can create the kitchen cabinets, you'll need to have a good understanding of your general kitchen design, including both decorating style and set up. If you're planning a full kitchen remodel that involves moving or shuffling a part of the kitchen work triangle (refrigerator, oven range, and sink), you may need to radically re-design your kitchen cabinetry. As for the countertops, if you want to gain a better focus of what you want your kitchen to be and how you can design countertops for the kitchen, you'll want to consider both kitchen trends and your own daily activities and preferences.
Flooring consideration
Kitchen flooring is another important consideration when its time to remodel. Unlike some other areas of the home, it's wise to choose a flooring material that is resistant to the inevitable spills, splashes, and stains that cooking and eating areas are sure to experience. Stone and ceramic tile, along with laminate flooring, are your best bets here, though any hard surface will work if you're diligent about cleaning up messes and spills as soon as they happen, and are willing to pay a little extra up front for protective sealant.
Appliances and Fixtures
Advances in technology are hard to keep up with these days, and kitchen appliances and fixtures are no exception. For appliances, visit a retailer and get an idea of what's out there. Induction cooktops, steam assist ovens, microwave drawers, and undercounter freezers can help transform your kitchen into a chef's paradise at the drop of a hat. When you move on to choosing fixtures, think convenience, looks, and innovation. Apron sinks, pot fillers, pull out faucets, and water stations are just a few of the thousands of innovative designs you'll have to choose from.