Hold a Wine Tasting Club at Home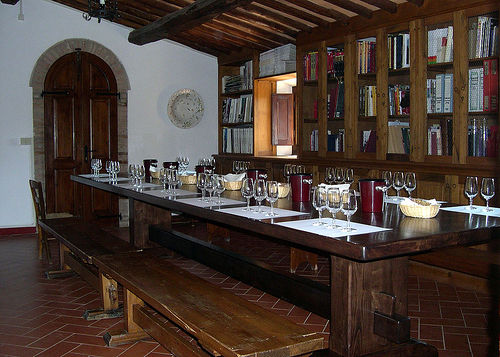 Do you want your home bar become much more lively? Well, just hold a wine tasting club at your home bar, this surely be a good idea. So, what is it? A wine tasting club just like the book club in different ways, except of course the focus is on wine, not books. Like a book club a wine tasting club is a social gathering. The wine tasting club meets to taste, judge, and discuss wine. Wine tasting clubs are educational but are mostly a way to enjoy friends and have loads of fun. You should not confused a wine tasting club with a wine club. A wine club is a marketing tool used by wineries and wine shops to get people to sign up to receive periodic shipments of wine. They different in essence.
When you start your wine tasting club, how many things should to do for preparing?
You should decide the size of the your club. The ideal club size is anywhere from 8 to 16 people. You can start with just a very small group and it will build from there. Then you should send out an invitation with all the details about the event. Emphasize fun and education. The last thing you want is intimidation. At the first meeting set the guidelines for the club. Perhaps, choose a name for the club. Decide on meeting dates, hosting assignments, and the theme for the next tasting. Decide on what foods will be served. Is it pairing appetizers with the tasting or is it dinner after the tasting? And it always a good idea to have a person as the designated recorder or secretary. The main responsibility is to make sure they keep all the scoring results and send them out. Decide how to pick and purchase the wine. If each couple or person brings one bottle of wine then it can become a contest to see brought the "winning" wine. It is best if the host purchases the wine and then gets a reimbursement.
You should always decide a wine theme for your every wine tasting club meeting. For example, •Taste six Pinot Noir wines under $20 from any region. The idea in this tasting is to find a bargain Pinot Noir wine. While taste six Pinot Noir wines between $20 and $30 from different wine regions – Russian River Valley, Corners, Santa Lucia Highlands, etc. The idea in this tasting is to discover the characteristic of each of these important Pinot Noir regions. And taste six Chardonnay wines ranging in price from $15 to $50. The idea in this tasting is to discover the differences in quality among a wide price range. Just samples, you can decide your own unique themes.
The last important things is the food and wine preparing. Twelve to sixteen people is about right for one of these wine tasting parties. One bottle of wine can easily be poured in small amounts for 12 to 16 people. Four to six wines for comparison and rating is about the right number. Bag your wines. Pour about 2 oz of wine in each glass. Provide simple hors d'oeuvres for the guests. Mild cheeses and crackers are a good choice. They help neutralize the palate between wines. After doing all these things, that maybe close to deal.