Hip Themed Logo Sports Bar Stools
Choosing the right sports bar stools for a sports bar can be confusing especially that many styles of bar stools of different heights are now available in the market. The only key to choosing a sports bar stool is to first consider its uses and how it can give comfort for the bar customers.There is a basic standard for choosing a sports bar stool. A 30-inch bar stool is standard. For a person whose height is standard,  sitting on a 30-inch Swivel bar Stool is more comfortable and less tension but can be a little concerning for very short or tall guys and girls, especially when they want to make themselves comfortable. A good number of bar stools are coupled by foot rails close to half in between the floor and seats.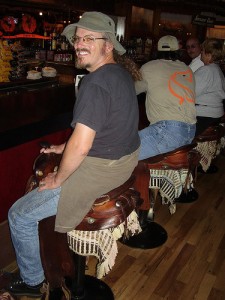 The use of this design is to provide the needed comfort as people stretch out their legs and relieve the weight exerted on the rear and the thighs. It is perfectly designed to meet the height of most manufactured home counters and tables. Most of these counters measures between 40-inch to 44-inch making a 30-inch bar stool the most favorite choice for many people who cherish to sit leisurely as they chat,sip some wine or eat a snack.
Two best Hip Sports Bar stools styles to consider:
Themed Sports Logo. Sports logo designed sports bar stools is the perfect accessory to make a bar or game room alive. A 30-inch high and 14-inch deep, vinyl swivel bar stool is well known for its comfort and will add enough. Choose sports bar stool where the logo applied has reverse screen printing process under clear vinyl with it so it would be easy to tell if it won't be peeling, wearing off, scratching or splitting.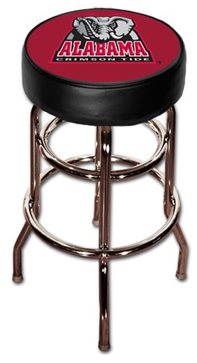 Base is at least constructed with commercial grade tubular steel for ultimate durability and stability.
For game room pimps,one can also have sports bar stools with back rests which has a standard 30-inch high for supreme comfort leaning or sitting. Get extra wide 14-inch seat for plenty of space for customer's comfort. The height is better to be padded back which stands 46-inch high.For customer's that likes to rock, a full 360-degree swivel top for maximum range movement is recommended.
Sports themed wall color. A bar themed logo sports bar stools won't appear to be completely a hip themed sports bar if the bar stools alone are only designed. The color of the bar walls give more life to designed sports bar stools. Change the color of the bar room to reflect the sports team's color. For die hard fan, this is probably the more favorable choice.