Enjoy Life with Portable Home Bars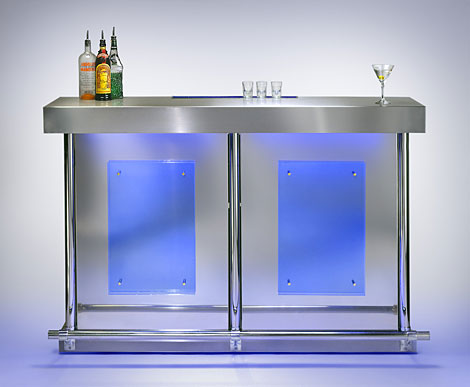 Owning a home bar is not just a great idea, it can also be a positive way of enjoying life. A portable home bar makes it convenient for you to entertain friends in the comfort and privacy of your own home. portable Home bars have different styles, colors, and sizes, which allows you to customize the bar to your home. Below are some types of portable home bars that people may choose from.
If you are hosting a number of summer gatherings and parties, Marvel Outdoor Portable bar is the ideal bar to use. It has a stainless steel finish and foot rollers. This wheeled outdoor cart includes a refrigerator and ice box. It has a bar top and two bottle wells that can accommodate liter bottles; a condiment tray; and a fridge that can hold up to 100 cans. This bar cart is every outdoor entertainer's dream.
The next type of portable bar is the wood Swing Open Bars. when it's folded it looks like the average end table or cabinet and can be a regular fixture anywhere in the house. When it's time to entertain, simply swing open the two sides and you have a bar, complete with brass foot rails that you can pull a few bar stools up to for a comfortable and casual temporary bar setting. The middle panel is the only storage space so that is limited but the mobility makes up for that and it's on rubber casters so you can roll it around. You can, however, lock up your liquor and take advantage of the glass rack and drawers to fit almost all of your bar tools. It's a great deal and with the optional finishes it can fit any decor.
Another portable type of home bar is the Bellacor Mini Bar, which is a sleek, black PVC bar cart. Its style is modern and it is adorned with tempered black glass. It is great for casual entertaining. It has limited storage space. There is a speed rail and the counter has bottle holders to display premium wines and drinks. When not in use, it can be stored anywhere. The built-in hanging glass serves to keep stemware safe and ready to use. The racks underneath are useful for storing garnishes and mixers.
Lynx Cocktail Station is one of the most versatile portable bars. This bar has commercial casters that make it very mobile and portable and includes a sink with a faucet and water filter. Aside from these very extravagant features, it also has an insulated ice bin with cover, bottle opener, speed rail, removable cutting bard and lots of extra storage. Additionally, the two shelves on the sides can be removed, flipped and converted into serving trays. For all these great functions, this portable bar is certainly not the least expensive.
The above-mentioned portable home bars are just a few types that are worthy to choose for your home. Prices and other features as well as more types can easily be found on various websites. Look around a little, make the choice that best suits your home and enjoy life with the bar you like.