Enjoy Designing Your Home Bar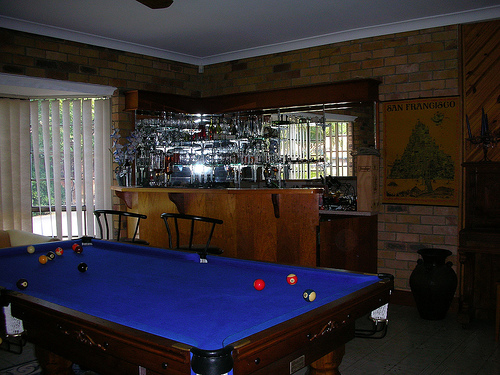 How you spend your leisure time? Do you like going to a bar? How you always hold parties at home? These are all the questions that we need to think in creating higher quality life. If you want your home is the place where your friends and family tend to gather for sporting events, card games or a great place to hang out on a Friday night. Then consider building a home bar to add a little flare to your entertaining. You will enjoy the process in your bar design.
If you decide on building a bar which is just the first step. Many decisions have to be made throughout the building process to determine how much space the bar take up, where is will be located and just which style that the bar will be designed into. And in my opinion, the design to a bar is the most important factor to a home bar.
Yes, maybe the process of designing your home bar is itself a enjoyment, just depends what you think about it. Home bar can come in many different colors and designs, and will have different kinds of storage space, depending on exactly what it is you set up. Some branded home bars are decorative items that give a special touch of style. I can give you some popular home bar design examples, which may help you and hope you can create miracle at your home.
The first popular design, which may look very classic, worth looking at , and is an armoire and wine cabinet by Howard Miller. It hosts a concealed wine and liquor cabinet. It can store liquor bottles as well as glassware and boasts a twenty two bottle rack. The mirrored back, wood finish, and laminated shelf drawers reflect real beauty. And the counter space is just about right for any home bartender in the making. If you are a quiet person, maybe you will like the bars like this.
Another one is famous Droog Design means "dry design" in Dutch. Droog Design has been distinguished by their innovative concepts like modern chandeliers. Their designs have been described in terms of "humor" and "intelligence" and it is quite evident in their modern chandeliers like the 85 Lamps modern chandelier. Droog Design is a collaboration of many different designers around the world and one could say it is the closest thing to a design movement of late. They offer a poor physical experience. So, If you are a person who hate the restricts in daily life, you may like this design.
Yet another option is something like the Lexington folding bar set. It bears a similarity to the swing open bar. It cleverly gives the appearance of an average living room cabinet by day and by night, it is a full bar in a beautiful wood finish, when you pull out the two extensions. This bar can house a full stock of alcoholic drinks and wine bottles. It has pull-out drawers where the tools of the trade can be stored.
Of course, there are still many other designs, but you should make a point is that: There is no best one, just the most suitable one to yourself. So, enjoying the process of designing your own home bar and creating happy life.