Creating Your Wine Bar Designing Plan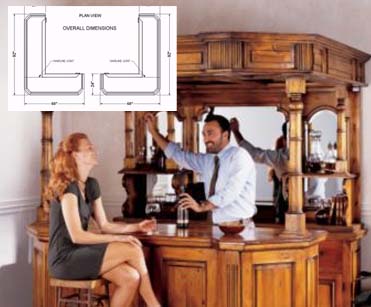 When you are ready to layout a designing plan for your home bar – the first thing to think about is how much space you're working with. The average wine bar is 42-inches high and 24-inches deep. Of course, you should customize your bar's size to fit the area that you have available and your preferences. Just remember that most bar stools are 30-inches tall, so your bar should not be much lower than 42-inches high, to allow for leg room when seated.
You'll also want to think about the shape that you'd like your bar to be. There are several options to consider including L-shaped, horseshoe shaped or rectangular bar designs. Find something that works perfectly in your space. Remember that your bar will be three-dimensional. The outlines on the floor won't visually take up as much space as your finished bar will, once height is incorporated.
If you're starting your project in an area with a concrete floor, it's smart and simple to outline your layout on the floor where the bar will be, in chalk. If you're working in an area with finished floors, it is still important to make an outline – you might consider using string or painters' tape to protect your flooring.
A good wine rack is necessary, or just a wine bottle cabinet is a good solution for keeping the wine bottles out of the way but easily accessible. You have the option to build a wine rack or cabinet from woodworking plans, or you can buy one among many different styles.
Television placement is also key. You'll want to position or mount your TV so as many people as possible can have a clear view of what's on.
Generally speaking, a wine bar is designed with a dark look that just feels relaxing, with dark woods and classic decor. And that is the traditional wine bar design theme. But your style might lean toward a brighter look. If that is what relaxes you and gives you the right atmosphere for you, then by all means decorate to that plan.