Building Your Own Simple Wet Bar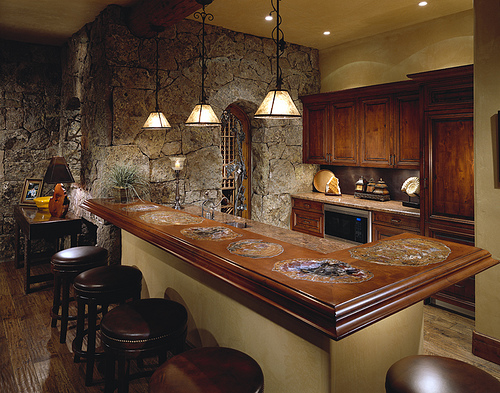 Why the wet bars are so popular among some families? Building a wet bar near the kitchen or dining room which can be used as a secondary serving area or even another food preparation area while the living room wet bars are great for serving drinks in an entertaining situation.
Wet bars are so convenient and building a wet bar is fairly simple. You can create beautiful and functional layouts easily just as you imagined. Anyway, you should plan ahead to get your home wet bar dimensions, supports, and electrical needs correct for starters. These wet bar plans and construction tips will help get all those desired wet bars out there underway.
The tough part is choosing your wet bar cabinets by wood species or select materials and styles that are best for your wet bar area. I happened to select cherry wainscoting for the front of my wet bar. This product matched perfectly some wonderful cherry Marital cabinets that I have in the same room. The wainscoting was supplied by New England Classic. This is a wonderful company that has all sorts of natural wood and paint grade wainscoting that is custom designed for your personal application or job. You simply send them the dimensions of what you want to do and they come up with a design using their standard parts.
The wet bar wall is also important to support a top and shelves that might be on the bartender side. But, don't think It is a big deal. You will find a U-shaped bar is obviously the best design. A curved wall is also very strong but presents all sorts of challenges to build. I designed my L-shaped bar with a short wing wall which turned out to be very stable. You can also can choose such designs. The wall thickness which also need to consider. If you can afford the space, construct the bar wall from 2×6's or better yet 2×8's. I had to use 2×4's because of space problems at my home. The wider the wall the more stability you produce.
Having planed for electrical appliances, mixers, refrigerators, phones, etc. The lighting of the bar may would you mind anyway. Indirect lighting, hanging fixtures, recessed lights, etc. are all possibilities. Creative lighting can really enhance a wet bar. Visit a true lighting showroom, not a big box store, and get some suggestions from the salespeople. I'll bet they can give you plenty of ideas!
When your own bar has been settled. You will not sit or stand at someone's basement or family room bar and just envying. You will feel that a home office area with a wet bar while there is small refrigerator and microwave for mid afternoon snacks is really perfect.