Bar Top Materials Ideas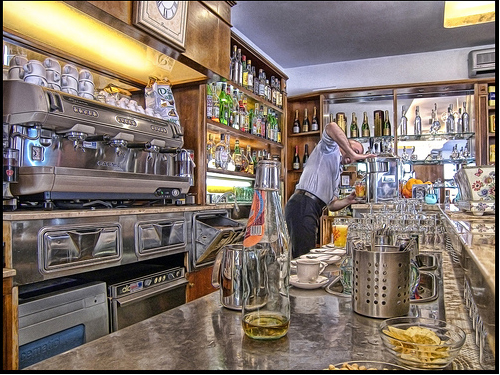 Bar Top is the long counter where drinks sit in between sips and it is arguably the most important part of the construction for any bar no matter the home bar or commercial bar. When deciding bar tops, Just remember the main points:
1. The Bar Top is the showpiece. If can't quite afford the material you really want for your design, try looking at using it only for the top.
2. The prep surfaces will take a lot more liquid abuse. Make sure they can take it.
3. Many of the expensive materials are wasted on your prep counters.
4. Be creative. If you aren't creative, hire someone to be creative for you.
And below are the main materials of bar top or counter tops recommend for you.
Laminates. It comes in a variety of colors, patterns, and textures. Laminate's flexibility is very handy when it comes to making sure your bar top is both functional and awesome in appearance. Laminate is very inexpensive, especially if you decide to construct your counters yourself.
Ceramic Tile. It is cheap, durable and affords ample options for design magic. But unlike laminate, ceramic tile is an uneven surface, if your inebriated friends are going to be picking up, putting down and sliding around your expensive, fragile cocktail glasses on that uneven surface, which may cause some trouble.
Solid Surface. It is another great choice for both bar tops and countertops. Like laminates, they come in an incredible array of colors. Solid Surface bar tops or countertops feel rich, smooth, and luxurious. They are easy to clean, and are impervious to water damage.
Granite. You can get this bar top in many colors and patterns, many of which are larger and more intricate than any offered by the synthetic alternatives, but all of which are natural. It can be fun just going to your local granite supplier and walking though their warehouse, looking for just the right slab.
Marble. It is natural stone, like granite, and has perhaps even more varied and beautiful looks. It feels great too. But marble has all granite's drawbacks, for example, fragile. In general you are far more at risk for cracks and chips with marble than granite.
Stainless Steel. This bar tops are extremely durable. In most installations, they convey a very modern or industrial design sensibility. It is also virtually impossible to stain. When properly installed, it is cool and very solid to the touch. However, steel will show fingerprints and water spots, which make it hard to keep looking good.
Wood. Wood is of course the classic bar top material. Teak, walnut, cherry, even oak can make an attractive bar top. It is very flexible in a design sense. You will have a lot of choices and options in color, shape, and style.
Epoxy and Resins.
There are a number of cool applications for epoxy and other clear resin products in making home bar tops. Most of them are highly and/or distinctively decorative. Epoxy and Resin also work great for a sports themed bar, just lay out your trading cards, pictures, pennants, etc., and seal them in forever.