15 Essentials for your Home Bar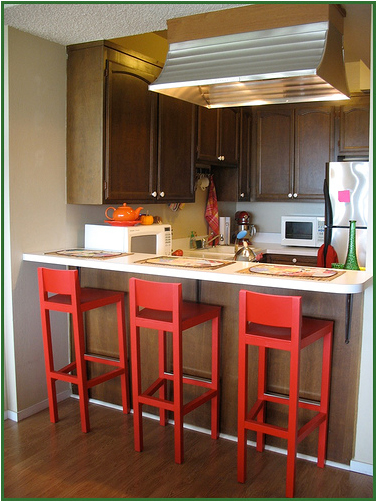 Building a home bar is a great work. Although we need to concern the whole décor, bar settings and theme, the relevant accessories cannot be neglected in the home bar building. Suitable bar appliances always play very important role when you entertain friends or just hold a informal dinner party, your guests will find a drink they can enjoy if you stock these bar essentials in your home bar.
1. Cocktail shaker. cocktail shaker is a device used to mix beverages (usually alcoholic) by shaking. When ice is put in the shaker this allows for a quicker cooling of the drink before serving.
2. Glassware. Different glasses will be used for different beverages. If you don't own all of these types of glasses in your home bar, skip the highballs and serve mixed drinks in tumblers as well.
3. Corkscrew. Corkscrews are necessary because corks themselves, being small and smooth, are difficult to grip and remove, particularly when inserted fully into an inflexible glass bottle. The handle of the corkscrew, often a horizontal bar of wood attached to the screw, allows for a commanding grip to ease removal of the stopper. Corkscrew handles may incorporate levers that further increase the amount of force that can be applied outwards upon the cork.
4. Ice tongs. Sure you could use your hands, but it just wouldn't have the same je ne sais quoi.
5. Ice bucket. Or try a galvanized bucket with ribbon tied on the handle for a festive touch.
6. Ice maker. Ice maker will help to make ice as soon as possible
7. Jigger. This ensures the equal measurement of spirits/liquors to be added into mixed drinks; ideal for when following cocktail recipes.
8. Strainer. Some cocktail shakers come with these built in. This item prevents bits of ice from falling into the drink you are serving.
9. Blender. For blended drinks that involve crushed ice (ex. strawberry daiquiri, pina colada).
10. Stirrer. Stirrer is used to mix drinks. Sometimes, it can be replaced by stir sticks
11. A good drink recipe book for those unusual drink requests, or to choose a themed cocktail especially for your soiree. Or visit Chapters.ca for a stainless steel Manhattan Recipe Shaker with the recipes for 15 cocktails right on it.
12. Straws. When your guests want to have some juice, the straws will be suitable.
13. Juice extractor. It is workable to make fresh juice for you and your guests.
14. Water jug.
15. Champagne bucket. One is enough.